The warriors of Léva castle's duel, on 1 May 1581
The members of the Valiant Order of the 1,000-mile-long Hungarian-Croatian / Transylvanian Military Borderland often challenged the Ottoman warriors to duels. It was not just a source of fame but also a great way to make some income: they received only fragments of their pay months or sometimes years later from the Habsburg king. There were individual duels and group duels as well but the rules were strictly observed in all cases. Let us recall that the "Turks" (in fact, 96% of them were Albanian or Serbian mercenaries) regarded themselves also the members of the Valiant Order.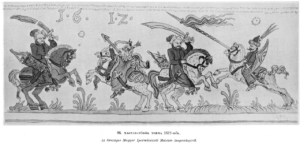 We are lucky to know some details about the group duel that took place on 1 May 1581. It was initiated by the Borderland warriors of Léva castle and the Hungarian Hussars were led by Dobó Ferenc. The duel, reported in a poem by Nikolaus Gablmann, a German scientist enthusiastic about the Hungarian Borderland castles, was fought in the field near Korpona castle. (Please, note that I use the Oriental name order for Hungarians where family names come first.) Here is more about Korpona castle:
https://www.hungarianottomanwars.com/kingdom-of-hungary/korpona/

Dobó Ferenc was the son of Dobó István, the hero of Eger castle and a well-known military officer on the Borderland, he stood out in gold-decorated clothes with a gilded and silvery harness. He was accompanied by the warriors of the castle of Léva, whom the women said goodbye by shouting after them from the bastions like this "Why do you hurry the day of your death? Why do you leave your innocent children behind? "
The Turkish team was already waiting at the scene. Upon seeing this, Dobó began to pray and asked for God's blessing on those who fought for their Homeland. Then, the two sides exchanged hostages, appointed judges ("truth-seers"), and fight leaders. Captain Fáncsy summoned the first Hungarian knight ("valiant warrior") to start the duel. The warriors ran against each other on horseback, the Hungarian stabbed his lance in the body of the Turk, who fell off his horse with a bleeding wound.
This was followed by Lieutenant Tarczy from Korpona, who was greeted with mocking cries by the Turks who all know how him for being garrulous. However, when Tarczy struck his lance into his opponent's head through his helmet, all the mockery was silenced. Fáncsy sent a Hungarian knight, stripped to the waist, against a Turkish, who was also stripped to his waist. The Hungarian killed his opponent.
Then, ten Hungarian riders and ten Turkish riders dueled at the same time. All of the ten Hungarians defeated their Turkish opponents. A quite stocky Hungarian named Ferenc stood out and challenged a giant Turk against himself, who ridiculed him by calling him a child and did not want to fight him. But Ferenc put him in his place, saying: "We are both warriors, we have to fight!" So the duel began, but immediately on the first attack the small Hungarian cut off the right arm of the giant Turk from the shoulder. Unconsciously, his opponent fell off his horse, and Ferenc stepped on his neck and took his head.
Altogether sixteen Turks fell and just one Hungarian warrior died in the fight. Dobó, seeing that the Turks, tired of the hopeless struggle, wanted to leave, so he made an inspiring speech to them. But they no longer had the mood to fight any further and flocked home. Dobó's men were greeted at home with cannon shots, the sounds of trumpet, and rifle volleys. Gablmann, the war correspondent of Nádasdy Ferenc, was witnessing these events. He wrote a heroic poem about it, entitled Monomachia, which was published in 1588 in Monyokerék.
Source: Szibler Gábor and Takáts Sándor
Here is more about Léva castle:
https://www.hungarianottomanwars.com/kingdom-of-hungary/leva/
If you like my writings, please feel free to support me with a coffee here:
This article contains Amazon ads. By purchasing through these links, you can help my work at no added cost to you. Thank you!