Prince Rákóczi I György of Transylvania (ruled from 1630 to 1648)
Rákóczi I György (1593 – 1648) was an important Hungarian nobleman who was Prince of Transylvania from 1630 until his death in 1648. During his influence, Transylvania grew politically and economically stronger. He was a well-educated and tolerant, "modern" absolute ruler with good military skills and experience. As a strong and independent sovereign ruler of Transylvania, an area twice bigger as modern-day Hungary, he was indeed in a position to make a difference in the 30-Year-War.
He was born on 8 June 1593 in the castle of Szerencs, in the recently gained domain of his father, Zsigmond. In 1605 he served as a page in the court of Prince Bocskai István in Kassa (Kosice, Kaschau). After Bockskai's death in 1606, he rejoined his father, Rákóczi Zsigmond in Transylvania. Zsigmond was elected Prince of Transylvania in 1607 but resigned a year later. György followed his father to his domains in 1608.
He was a young man when he became the Captain of Ónod castle and the Chief Comes of Borsod County in 1615. The next year, he married Lórántffy Zsuzsanna. She brought large domains into the marriage, they were in Zemplén County. It was when the Rákóczi family could get hold of the castle of Sárospatak. They had four sons, one of them was called also György, later he became Prince of Transylvania. (Prince Rákóczi György II ruled from 1648 to 1657.)
In 1619, György joined Prince Bethlen Gábor's invasion of Royal Hungary, ruled by King Ferdinand II. Prince Bethlen appointed him Chief Captain of Upper Hungary. György commanded a wing of Bethlen's army, which was sent to oppose a Polish army coming to the aid of Ferdinand. The Polish force defeated Rákóczi's force at the Battle of Homonna (Homoneau, Humenné) on 23 November. As a result, Bethlen had to give up his attack on Vienna and make peace – as we had said, it was that attack on Vienna when its suburb was taken. It is an interesting addition to Rákóczi's character that when he was with Bethlen's army he received the news that his wife was about to deliver a baby. He didn't care that Bethlen was dismayed and left the army behind just to be near his wife's bed.
Rákóczi remained in Bethlen's service till Bethlen died in 1629. Bethlen Gábor was briefly succeeded by his widow Catherine, and then his brother Bethlen István. But the Transylvanian Diet soon turned to György instead because they disliked Catherine's rule. On 1 December 1630, at Segesvár (Schäsbrich, Sighisoara), the Estates elected Rákóczi as Prince. However, he had to confirm his rule by showing up enough military power, so he scattered the troops of Palatine Esterházy Miklós at Rakamaz in March 1631. Esterházy would have been the Habsburgs' candidate for the Transylvanian throne but after defeating him, King Ferdinand II made a treaty in Kassa 1631, and Rákóczi was accepted as a Prince. In return, he obliged himself to send away the Hajdú troops. Seeing this, the sultan also acknowledged him and sent his affirming "athname" in next year in June. You can read more about Catherina's reign here:
https://www.hungarianottomanwars.com/essays/catherine-of-brandenburg-wife-of-prince-bethlen/
Rákóczi did everything in his power to make all the Transylvanians accept his rule, he was not shy of using violence, either. He thought that the Transylvanian Sabbatarians, an extreme branch of the Unitarian church were dangerous so he fabricated a trial against them and cast them out of the country. The Transylvanian Estates were not satisfied with him so Rákóczi had to keep the reins always with a strong hand. By the way, the Transylvanian rulers have always had stronger and more absolutistic power concentrated in their hands than the Habsburgs or any other contemporary western monarchs. Here is more about the semi-independence of the Transylvanian Principality:
https://www.hungarianottomanwars.com/essays/transylvanian-principality-a-vassal-state-of-the-turks/
As for the Ottomans, Rákóczi was even more independent from the Turks than Bethlen had been, he even denied paying the annual taxes that was a "casus belli". The Turks were annoyed and the Pasha of Buda gave troops to Bethlen István, the younger brother of late Prince Bethlen Gábor to chase away Rákóczi from Transylvania. But Rákóczi defeated the Pasha of Buda at the Battle of Nagyszalonta on 6 October 1636. This victory helped to strengthen his position in the Sublime Porte. Four years later he made a coalition against the sultan with the Polish king Sigismund III.
He could afford to have an independent foreign policy, neither the sultan nor the Habsburg emperor could interfere in his actions. For example, he had a hand in the interior affairs of the Wallachian and the Moldavian voivodes, he tried to make them loyal to him alone. He actively took part in western political affairs, too. As for King Gustav Adolph, Rákóczi fell into Bethlen's steps and has also sent a delegation to Sweden but it happened too late because the Swedish ruler died. As a result of this, Rákóczi couldn't join that time the Swedes against the Habsburgs to take Hungary back from the Austrian usurpers.
The delay of their coalition was that the Swedish king had wanted his military support against the Austrians quite unconditionally. But Rákóczi had his own terms: he wanted to keep his lands and the Transylvanian freedom of religion. The Habsburgs had done everything to hinder Rákoczi's intervention in the 30 Year Wars: they had bribed the Ottoman Serasker (chief military leader under the sultan) who threatened Rákóczi to send Tatar and Turkish raiders to Transylvania if he tried to attack the Austrians. When this Serasker received his "silk string" from Sultan Murad, this obstacle was not there anymore.
So it happened that a decade later Rákóczi was free to decide to take side with the Swedes when he learned that Torstenson broke into Austria after 1642 at Olmütz. Rákóczi occupied the whole of Upper Hungary from the Habsburgs – similar to his fellow Transylvanian Princes like Bethlen and Bocskai the past had made a habit of it. The lands of Royal Hungary north from the Danube river were in his hands. Yet, the majority of the Hungarian Estates of Royal Hungary did not support him. His army in 1644 February was on the march to join Torstenson to meet him at Vienna. Finally, the Prince joined the Swedish army not in Vienna but in Bohemia where they were besieging Brno. But why?
He was not in a hurry to ruin the Austrians, as a matter of fact. In this respect, his thinking was perhaps similar to King Báthory István's who had been balancing the power as a Polish king between the Habsburgs and the Ottomans. Here comes the background without it we couldn't fully understand why. So in 1644, he intervened in the 30 Year War, allying himself with the French and the Swedes. He declared war against the new Emperor, Habsburg Ferdinand III, but not with the intention of crushing him beyond measure.
Now I don't detail how Rákóczi's army was beaten by General Götz's bigger army when he first was hurrying to the Swedish' aid, then how Rákóczi withdrew to Kassa, how Götz tried to attack him after bribing the Pasha of Buda who promised not to interfere. When Götz had to return to Prague, Rákóczi set out against the Habsburgs, repeatedly. Finally, Torstenson defeated and killed Götz and he was expecting Rákóczi to join forces with him again at Vienna. So Ferdinand III had got in utter peril by now and had to secretly offer very good terms of peace to Rákóczi. It was the reason why the Prince slowed down his advancing troops and instead of Vienna he decided to meet Torstenson at Brünn (Brno), as it had been explained.
The secret negotiations were still going on with Ferdinand when the Emperor's general called Puchaim was sent to Upper Hungary to attack Rákóczi from the behind so Rákóczi had to turn back to deal with him. Puchaim refused to give battle and returned to Vienna. It was not without the Austrians' hands, either, that Rákóczi's nominal overlord, the Ottoman sultan, ordered him to end the campaign. Not as if the sultan had enough power to force him to do so but it was a good excuse for Rákóczi to withdraw. Finally, in the Treaty of Linz (September 1645), Ferdinand recognized György's rule over the seven counties of the Partium and reaffirmed the religious liberties of Transylvania. Also, the Habsburg ruler had to agree to the privileges enjoyed by the protestants.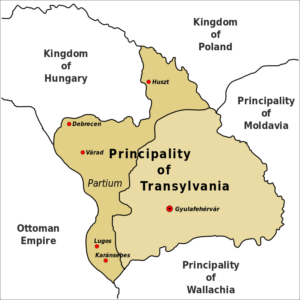 As you can see, the international political situation was very special and we have to understand the motives and the power structures in order to have a slightly better knowledge of this delicate 17th-century political dance. There came the Peace of Westphalia in 1648 and as part of the treaty, Rákóczi and Ferdinand made peace, too, at Linz. Drawing the conclusion of Rákóczi's 1645/46 war: he was able to achieve his basic military goals (keeping his lands intact and defending the unique Transylvanian religious freedom) with an army that was outsmarting superior forces, without a major defeat. He didn't really want to bring the Austrian Kingdom down before dealing properly with the Turks since the Habsburgs represented at least some kind of an opposing power against the Sultan. That's why he didn't hurry to help Torstenson.
Rákóczi was a devout supporter of the Reformed church. Although he had a quite mingy reputation, he generously supported the Reformed College of Sárospatak and the publishing of Protestant literature. He spent lots of money on converting people and improved his library by leaps and bounds, even making efforts in Istanbul to regain the famous Corvina books of King Matthias Corvinus. He sponsored the translation of the first Reformed New Testament into the Romanian language.
He had György, his son elected as the next prince of Transylvania in 1642. AS for Zsigmond, his younger son, he wanted to gain him the Polish throne but the Rzeczpospolita did not support it. Rákóczi György died on 11 October 1648 amid the debates about the Polish crown. Think of this when we learn about the disastrous Polish war of his son in 1657. You can read more about that campaign here:
https://www.hungarianottomanwars.com/1541-1699/1657-the-unlucky-polish-war-of-prince-rakoczi-gyorgy-ii/
Source: partly by Szibler Gábor
This article contains Amazon ads. By purchasing through these links, you can help my work at no added cost to you. Thank you!
My work can also be followed and supported on Patreon: Become a Patron!