Báthory István, King of Poland and Prince of Transylvania (1533-1586)
The Báthory family
Báthory (or Báthori) István (Stefan) was born in 1533 from the Catholic line of the Báthory family of Somlya. He learned in Italian universities and acquired his Renaissance education there. He was the uncle of Lady Báthory Erzsébet (1560-1614) who was innocently accused of terrible crimes by her enemies. According to the latest research of acknowledged historians like Nagy László, she was a victim of a conceptional lawsuit because of her wealth, religion, and political ties. As I am writing about her uncle, I take the opportunity here to make awareness of this misconception about her. You can read more about Báthory Erzsébet here:
https://www.hungarianottomanwars.com/essays/lady-bathory-erzsebet-1560-1614/
How Báthory learned to hate the Habsburgs
After completing his education, he returned to Hungary where he took the side of King János Zsigmond (son of King Szapolyai János) and fought against the Habsburgs. Báthory István was the Chief Captain of Várad castle (Oradea) which had a strategic role in the region. Here is more about Várad castle:
https://www.hungarianottomanwars.com/transylvania/nagyvarad/
Then, he was an envoy to the Court of Vienna in 1565. He was presenting the terms of peace sent by his king. As it turned out, King János Zsigmond changed his mind and declined his peace offer. King Maximilian got very angry because of this and had Báthory arrested. He kept him in captivity in Vienna for two years. As a result of this, Báthory came to hate Maximilian to the extent that he refused to use the German language for the rest of his life. He could get home only in 1567 and he decided to stay at his domains. If you would like to learn more about the eagle nest of the Báthory family, read the history of Nyírbátor on my page:
https://www.hungarianottomanwars.com/transylvania/nyirbator/
King János Zsigmond was guilty of his imprisonment but instead of compensating Báthory, the king developed a strong dislike against him. János Zsigmond did not have a male heir so he left a Last Will in which he appointed a few Hungarian lords to carry govern the country after his death. However, he omitted Báthory's name from the list of these names. Quite unexpectedly, the king died soon after this on 14 March 1571. The lords who had been appointed in his Last Will had to face a rather difficult situation. As it was, Transylvania was stuck between the Habsburgs and the Ottomans and both superpowers wanted to seize the rule. Fortunately, Transylvania was equally far away from them.
The Estates of Transylvania elected Báthory on 25 May 1571 as the ruler of Transylvania (giving him the "Voivode" title which had come from the traditional title used in the old Hungarian Kingdom) so as to oppose the other candidate, Bekes Gáspár. (Note, in my articles I intentionally use the Oriental name order for Hungarians where family names come first.)
Bármelyik felé hajlik is Erdély, az a másik fél támadását eredményezné, és a speyeri szerződésben (1570) János Zsigmond ígéretet tett a halála esetére országának a Habsburg Birodalomhoz csatolására.
Hű tanácsadója, Bekes Gáspár már április 10-én azzal érkezett meg Bécsből, hogy Erdélyt átadja Miksának. A hónap végén viszont Báthory kapott fermánt, azaz szultáni rendeletet, amelyben őt nevezte ki a tartomány vajdájává. "…miért hogy Erdélyország régtől fogva az én oltalmam alatt volt, és ollyan országom, mint egyéb földeim, most is mindenben oltalmom alá akarom venni… azon állapotban, rendben akarom megtartanom, mint ez ideig voltanak."
Báthory a levél tartalmának ismerete nélkül írt Bécsbe levelet, amelyben kérte Miksát, engedje a rendeket, hogy vajdát válasszanak Erdély élére, aki elismeri az ő uralkodói jogait is. A vajda megnevezés szerencsésnek bizonyult, hiszen az a Portán is jól csengett (így hívták Havasalföld és Moldva oszmánok által kijelölt uralkodóit is), ráadásul a történelmi hagyományok alapján a magyar király erdélyi helytartóját is így nevezték a középkorban, tehát az új uralkodó a magyar király fennhatóságát is elismerné.
Miksa végül belement, hogy Erdélybe vajdát válasszanak, aki titokban neki is esküt tesz. Az összegyűlt rendek hosszas vita, zajongás után végül május 25-én többségében Báthory mellett szavaztak, ebben nemcsak a főúr tekintélye, vagyona, rangja, hanem a határon ugrásra készen várakozó tatárok is szerepet játszottak.
"Másnap jó hajnalban egybegyülének az gyűlésben, és alig valának együtt: ime további vita és szó nélkül kikiálták Báthori István uramot, az somlyait, főúr öreg nemzetet vajdának… Báthori István penig fonogató szóval megköszöné választását az gyűlésnek, és tüstént odahagyá az gyűlést az ez országbeli régi szokás szerént." – írja Hagymássy Kristóf a veszprémi püspöknek két nappal később. Báthory nekik mondta el közvetlenül a választást követően, hogy "Tüstént írunk római császár urunk őfelségének és az kereszténységnek; azmi történt, annak okai nem vagyunk; látta Kegyelmed is, miképp történtek az dolgok; ez mostani veszedelemben és az töröknek közelvoltában ez hazánkat vérbe, nyomorúságba, pusztulásba nem vethetjük; csak az idő az elmúltakat pótolhatja ki."
Báthory éleslátását dicséri, hogy felismerte, a két nagy birodalom közé ékelt kis ország nem szállhat szembe egyikkel sem, hanem biztosítania kell mindkettő jóindulatát. A Porta érzékenységére tekintettel a Miksának tett hűségesküjét titokban tartották.
Bekes Gáspár nem nyugodott bele a fejedelemségből való kitúrásába, négy év múlva fegyverrel tért vissza.
Later he had to fight against Bekes and he defeated him in a battle in 1575. After the fight, he mercilessly had all the noblemen executed who had sided with Bekes. Fortunately, he gave pardon to one of his captives who was the warrior poet Balassi Bálint. Nevertheless, Báthory made a secret treaty with the Habsburg ruler Maximilian aka Miksa, swearing fealty to him in order to secure his small country which was located between two great empires.
Here, you can read my dramatized historical short story about how he became Prince of Transylvania:
https://www.hungarianottomanwars.com/dramatized-historical-writings/interview-with-lord-bathory-istvan/
Báthory, the Prince of the Transylvanian Principality
His goal was to liberate Hungary from the Ottomans and this was why he reached his hand for the Polish crown. However, some historians have recently doubted his intentions regarding the reunification of the Kingdom of Hungary.
The Jagiellonian dynasty ceased to exist in Poland in 1572, and the Polish Noble Estates took over the control of the kingdom by establishing the "Republic of Noblemen" aka the Rzeczpospolita. Especially the Sejm, the Lower House of the Parliament, got stronger as they had the right to elect and control the king of Poland, they even had the right to find a wife for him. Finally, they elected Henrik Valois (later King Henry III of France) as King of Poland in 1573 but after a short time, he fled to France when his elder brother, King Charles IX of France died.
Báthory, King of Poland
The Polish Estates had to elect a new ruler but it took them one and a half years to decide. The lower-ranked noblemen wanted to elect Báthory István but the high lords wanted to elect Emperor Maximilian II of the Holy Roman Empire. Báthory had two diplomats in Poland who were paving his way to the throne, Giorgio Blandrata, and Berzeviczy Márton.
At last, they elected Báthory on 14 December 1575 in Warsaw as their king but only under the condition that he wed Anna, the sister of the last Jagiellonian ruler. She was told to be not very attractive and was 10 years older than Báthory. On the next day of the election, they issued the so-called "Pacta conventa" that included the terms and conditions. It was reinforced by 78 Polish and Lithuanian aristocrats' seals. Blandrata and Berzeviczy also took part in creating this agreement. There was another document containing further 17 points that had been issued still in December, though.
Yet, Báthory has agreed to all conditions of the Estates. However, the supporters of Emperor Maximilian haven't given up just yet, some of the higher-ranking priests and aristocrats elected Maximilian as King of Poland a few days after this. As for the Ottomans, the Sublime Port sided with Báthory and it was an important factor in Poland. Sultan Murad III thought that the Transylvanian Principality together with the Polish-Lithuanian Union was a smaller threat than the combined power of Transylvania, the Holy Roman Empire that included the Hungarian and the Bohemian kingdoms as well. The sultan even offered Ottoman military help to Báthory in case a war happened to break out between him and Maximilian. At the same time, Maximilian tried to bribe Báthory with huge domains if he resigned from the Polish throne.
A Polish delegation, led by 14 noblemen who were followed by their 200 men carried the "Pacta conventa" to Transylvania. Báthory summoned the Transylvanian lords to a Diet held in Medgyes on 28 January 1576. He received the delegation there, and ceremonially swore his oath to fulfill the terms and conditions of the Pacta conventa. At the same time, he appointed his elder brother, Kristóf as the Prince of Transylvania. As it was, King Báthory has always been keeping an eye on Transylvania and used to deal with its affairs. He also made his oath as a polish king in Medgyes, on 8 February. In his speech, he used to call himself "Prince of Transylvania": it was the first time when this rank was publicly used in Transylvania. A remark: Báthory gave a gift to the 14 Polish delegates, each receiving a horse with saddle and a silver cup. Each silver cup was worth 8,000 Thaller, roughly equal to 8,000 Hungarian Gold forints of the age. Báthory left Transylvania for Poland in the spring of 1576 and never returned there. As it turned out, Maximilian died in the very year when Báthory wed Anna and was crowned as a Polish king.
As a Polish king, he obtained his own income, and this way he could make himself independent from the Estates. He kept a mercenary army and has achieved lots of military success, mostly against the Russians. Báthory is said to have brought the first "winged hussars" with him from Transylvania. He reorganized the Polish army and the previous cavalry's role was gradually taken over by the Hussars whose lances became longer and their armor heavier.
Báthory fought against the Russian Czar Ivan IV (The Terrible), his Transylvanian, Székely, Lithuanian and Polish army took back Pskov and Novgorod. "If Báthory had lived 20 more years, there would be no Russia today," said Nikolay Karamzin.
The Czar was made to cede Livonia, too. As a result of this, he became the Grand Duke of Lithuania. Báthory brought Hungarian infantry from Transylvania when he was besieging Danzig: after a hard struggle, Danzig has also accepted his rule and his military success has increased his fame and power.
He was thought to carry out the liberation of Hungary by the unification of Poland and Transylvania, he had a concept of a kind of "Christian United Europe". In fact, each European ruler cherished such plans, of course, they envisioned it under their command…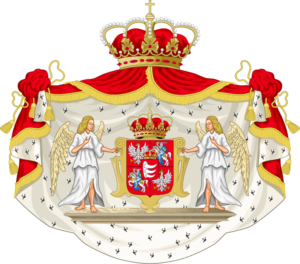 Several Hungarian aristocrats from Royal Hungary had been in contact with him in the 1580s, like Batthyány Boldizsár, Zrínyi György, and Nádasdy Ferenc. Thus, they took the risk of getting charged with treason against their Habsburg ruler.
Báthory was a Roman Catholic and as he had received a Renaissance education, he founded a university in Transylvania in Kolozsvár (Cluj, Klausenburg), by inviting Jesuits there. Also, he established the University of Vilnius in 1579.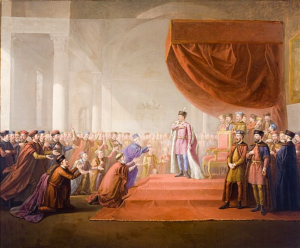 When his brother Kristóf died in 1581, he declared Zsigmond, the son of Kristóf the Prince of Transylvania. He set up an advisory board that was to govern the principality until the young Zsigmond would reach maturity.
At last, Báthory has made peace with his enemy, Bekes, too. They became close friends. It was Báthory who helped the children of Bekes to receive their education.
As for Queen Anna, Báthory tried to avoid her, they had no children. He tried to divorce her but neither the Vatican nor the Lithuanian-Polish Estates approved it. The Queen had a separate court but she loved her husband. Báthory died quite unexpectedly in Godnó, Poland on 13 December 1586.
He was a significant ruler of the Polish people who respect him even today.
We can see his tomb in the Wawel Cathedral of Krakow.
Here are some more items of weapons and armor, once worn by Báthory István (Stephan), Polish king, and Hungarian Prince of Transylvania.
In Poland, there are special sabers named after him, the "Batorowkas", which were popular until the mid-1600s.
The description of his saber: Full length – 965 mm, blade length – 840 mm, width – 40mm, thickness – 8 mm, yalman – 215 mm. (Source: mainly from Szibler Gábor)
If you like my writings, please feel free to support me with a coffee here:
This article contains Amazon ads. By purchasing through these links, you can help my work at no added cost to you. Thank you!